Introduction
This tutorial explains how to create events for your school calendar.
---
Note, this tutorial is intended for website administrators, or users that have been given access to their school's main calendar. For information on adding events/assignments to a class or personal calendar, see Adding a Personal Calendar Event.
If your school's Web site incorporates the Athletic Calendar feature, see the "Athletic Calendars" article for information on adding an entry for an athletic event.
---
Step 1
Begin by mousing over the "Calendar" link, located in the menu at the top of your Digital Bell Dashboard. In the drop-down menu, click the Events link.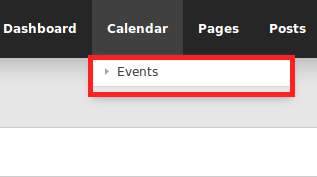 Next, click the "+Add new Event" link to begin creating your Event.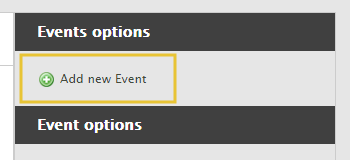 Step 2
After clicking the link, you will be forwarded to the "Add Event" form, as shown in the following image. Each field and option is described in detail below the image.
Note: The "Access," Labels," and "Related Content" sections are collapsed by default. Clicking on these sections will expand them.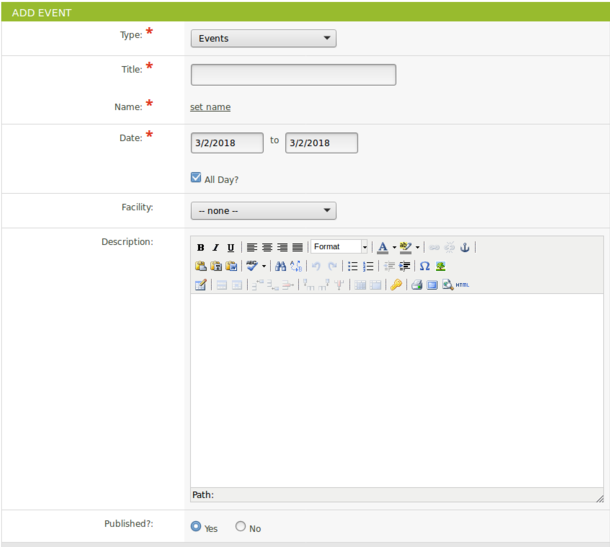 Type: This drop-down menu allows you to select the Event Type for you new Event. If there is not a specific type for your event, select the default "Events" Event Type.
Note: The "District Events" type is intended only for District Administrators - your event may be automatically deleted if you are not a District Administrator.
Title: The title of your event.
Name: The "Name" of your Event will auto-complete, based on the title, and no input is necessary.
Date: The date(s) your Event will occur. For single-day events, both fields should list the same date (ex. "10/1/2018" to "10/1/2018").
Facility: This is an optional field, which allows you to select the facility where your Event will occur.
Description: Additional information for your Event can be entered into this field. This information will appear when a visitor clicks on the calendar entry.
Published?: This option determines whether your Event will be visible on your calendar(s).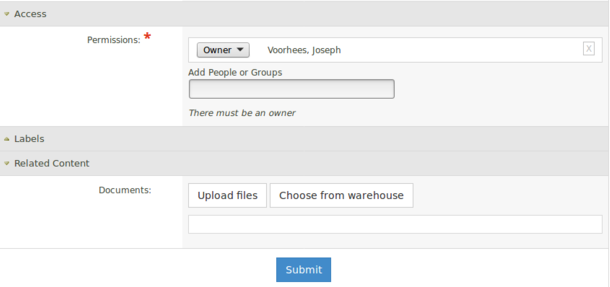 Access
Permissions: This section allows you to add Non-Admin users, who can either view, edit, or own the Event, based on the access level you select.
Labels
This section is optional. If implemented on your site, this section allows you to attach the appropriate Labels to your new event.
Related Content
Documents: This section is optional, and allows you to attach document files to your Event. Previously uploaded files can be selected by clicking the "Choose from warehouse" button. To add a new file, click the "Upload files" button.
Finish
Once you have completed the form, click the "Submit" button to create your Event.
Existing Events can be edited by clicking the "Calendar" link, located in the menu at the top of your Dashboard, then clicking the Edit button (pencil icon) to the left of the appropriate Event's title. Events can be deleted by clicking the red "minus sign" icon, opposite the Edit button.